"Through the first half of the year the typical home sold in just five days," said KAR president, Natalie Moyer with Reese Nichols in Wichita.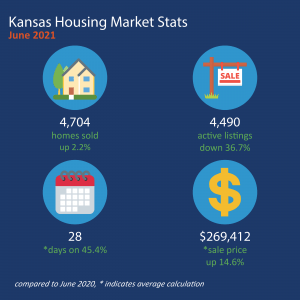 June 2021 Market Highlights
Home sales in Kansas rose by 2.2% percent in June 2021 compared to the same period last year. National sales rose with sales rising 22.9% over 2020.
Home prices continue to increase across the state. The statewide average sale price in June was $269,412 a 14.6% increase compared to last year. Midwest prices rose 18.5% and US prices rose 23.4%.
Mortgage rates continue to fall. The national average commitment rate on 30-year conventional mortgage for the week ending July 16, 2021 was 2.78%. View Freddie Mac's report.
To view May stats, click here.
For national perspective, click here to watch NAR's new "Housing Minute" video update.
KAR – The Voice of Real Estate in Kansas
For 100 years, the Kansas Association of REALTORS® has been the "Voice for Real Estate" in Kansas. Working for Kansas property owners, the Association provides a facility for professional education, research and information exchange among its 10,000 member licensees, as well as to consumers, government and the media. REALTORS® agree to abide by a strict code of ethics, and are held to a high ethical standard by their peers through their association membership. The term REALTOR® is a federally-registered trademark owned by the NATIONAL ASSOCIATION OF REALTORS®, and denotes membership in the non-profit Association.