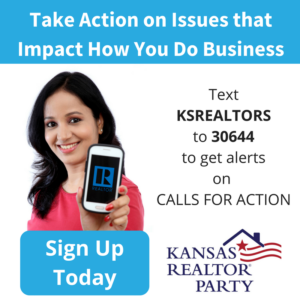 When Congress is considering legislation that affects the real estate industry, NAR calls on all of its members to act. Simply by contacting your Member of Congress through e-mail or a phone call, you can ensure that your business remains strong.
Congress is debating tax reform which could take away over $1,600 per year in housing related tax benefits for the average Kansas homeowner.
A couple clicks is all it takes to tell Congress to protect property owners and your business!
KAR and all NAR members join together and speak with one loud, powerful voice.
There are three ways to stay informed and respond:
1. Sign up to get a mobile alert when NAR needs members to speak out about an issue. Click here to sign up.
2. Get the REALTOR® Action Center Mobile App for Android and iPhone! Search for "NAR Action Center" on the iTunes Store or Droid Market and download the app today.
3. Join the Broker Involvement Program and get quick tools to rally your agents when a critical issue needs their attention. Quick means you don't have to do anything more than forward an email to your agents to get more members to participate in the Call to Action.