KAR's "Quick Study" CE combines a virtual or live in-person classroom, with at-home preparation (study material emailed 2 days prior to class), and an online quiz taken after the class.  
*** Quick Study Classes Virtual via Zoom or Live in-person Classroom***

Topeka Live in-person @ Kansas Association of REALTORS®, 3644 SW Burlingame Rd, Topeka
Wednesday, September 14
Wednesday, November 2
Wichita Live in-person @ Wichita Area Builders Association, 730 N Main St, Wichita
Wednesday, September 28
Tuesday, November 29
Virtual via Zoom
Wednesday, September 21
Wednesday, November 9
Lawrence Live in-person @ Lawrence Board of REALTORS®, 3838 W 6th St, Lawrence
Wednesday, October 26
* * Register Online * *
Select the date of your preferred class and complete the registration form.
8 – 10 am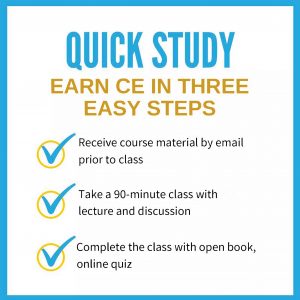 Kansas Required Core
4 Hours Kansas Mandatory CE Credit
and GRI 113 Credit
10 am – 12 pm
Legal Environment of the Real Estate Professional
4 Hours Kansas Elective CE Credit
1 – 3 pm
Kansas Real Estate License Law & NAR Code of Ethics
4 Hours Kansas Elective CE Credit
and GRI 114 Credit
2022 Quick Study Class Fees:
 
Early Bird
Enrollment
Regular
Enrollment

KAR Member

$26

$33

Non-Member

$33

$38
Cancellation fee – $10 per class. 
No refund or transfer once the class has begun.