KAR's "Quick Study" CE combines classroom time with at home preparation (study material emailed two days prior to class) and an online quiz to be taken after the class at home.  
2020 Quick Study Class Dates and Locations*
***2020 Quick Study Classes are now in Zoom Webinar format – the remaining Quick Study Zoom Webinar is November 19.***
Register online. Select the date/location of of your preferred class and complete the registration form.
8 a.m. – 10 a.m.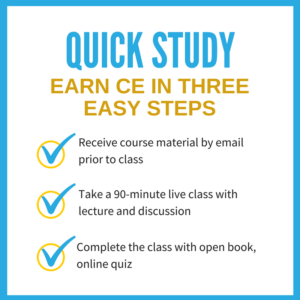 Kansas Required Core
4 Mandatory Hours
10 a.m. – 12 p.m.
Broker Supervision and Common Violations
4 Elective Hours
1 p.m. – 3 p.m.
Code of Ethics or Legal Environment for Real Estate
4 Elective Hours
2020 Quick Study Class Fees
 
Early Bird
Enrollment
Regular
Enrollment

Member

$26

$33

Non-Member

$33

$38
The cancellation fee is $10 per class for all CE classes.  No refunds or transfers will be granted once the course has begun.