"Total sales volume for the year so far is $4.17 billion, up nearly 30 percent compared to last year," said KAR president, Natalie Moyer with Reese Nichols in Wichita.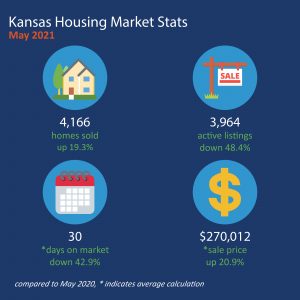 May 2021 Market Highlights
Home sales in Kansas rose by 19.3% percent in May 2021 compared to the same period last year. National sales rose with sales rising 44.6% over 2020.
Home prices continue to increase across the state. The statewide average sale price in May was $270,012 a 20.9% increase compared to last year. Midwest prices rose 18.1% and US prices rose 23.6%.
Mortgage rates continue to fall. The national average commitment rate on 30-year conventional mortgage for the week ending June 16, 2021 was 2.93%. View Freddie Mac's report.
To view April stats, click here.
For national perspective, click here to watch NAR's new "Housing Minute" video update.
KAR – The Voice of Real Estate in Kansas
For 100 years, the Kansas Association of REALTORS® has been the "Voice for Real Estate" in Kansas. Working for Kansas property owners, the Association provides a facility for professional education, research and information exchange among its 10,000 member licensees, as well as to consumers, government and the media. REALTORS® agree to abide by a strict code of ethics, and are held to a high ethical standard by their peers through their association membership. The term REALTOR® is a federally-registered trademark owned by the NATIONAL ASSOCIATION OF REALTORS®, and denotes membership in the non-profit Association.