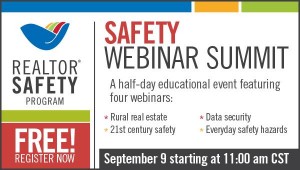 Register now for this free half-day educational session presented by NAR via webinar on September 9th.
Brokers: sign up and invite your agents to attend the webinar in your conference room or training room together.  This information should spark some interesting conversation about REALTOR® safety and help you promote good showing habits to keep your agents from becoming a victim while on the job.
Here is what you can expect;
---
Don't Get in the Pen with the Bull – and Other Safety Tips for Rural Land Professionals
Instructor: Terri Jensen
11:00 am – 12:00 pm CST
Being safe means being aware of your surroundings, especially for land professionals. Learn how to be safe in the rural environments.
---
REALTOR® Safety: Everyday Actions That May Compromise Safety
Instructor: Adrian Manzanares
12:00-1:00pm CST
Every day, we make decisions that can put us in danger. Learn how you can be smart about your safety, personally and professionally.
---
Discover REALTOR® Safety Through Technology and Change Management
Instructors: Mike Becker and Adam Havey
1:00-2:00 pm CST
Learn about the technologies that can be used right now to give you more confidence to go about your work safely as a real estate professional.
---
Online Thievery: What to do if You Experience a Data Breach
Instructor: Melanie Wyne
2:00-3:00pm CST
This webinar will explore the ways you can recover from a data breach and how to prevent it from happening again.
---