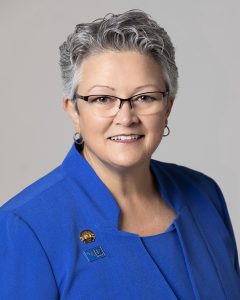 It's that time of year again, the flowers are blooming, the weather is warming up and the Kansas Association of REALTORS® (KAR) committee applications are open! By serving on a KAR committee, you can make a difference and shape the future of KAR. With more than 10 different committees, there is something for everyone (check out the committee descriptions here.)
Have you considered serving on a committee, but weren't sure about it? Here's the story of 2020 KAR President, Marsha McConnell and how and why she got involved with the Association.
2020 KAR President, Marsha McConnell | Hutchinson | Prairie Land Association of REALTORS®
Marsha's motivation to get involved stems from her desire to learn. Prior to becoming a REALTOR®, Marsha was a nurse. While attending school at Fort Hays State University, she served on student government as the College of Nursing's representative, president of her local chapter of the Student Nurses' Association, and later became a department head at Hutchinson Hospital.
"I've always enjoyed leadership roles. I've always felt like you need to be a student of whatever it is you're doing, continue learning, always try to do better, do more, learn more," said Marsha.
Marsha had been in real estate for a few years before she joined Plaza Astle Realty, her current brokerage, in 2005. Immediately, she found the new atmosphere to be encouraging and supportive of involvement at the local and state level. Her broker, who was the local association board president at the time, encouraged Marsha to get involved in association leadership.
And Marsha did. She ran for the local board and became president elect. While it is generally board presidents who attend the National Association of REALTORS® annual conferences, Marsha's broker wanted her to attend instead.
Serving on her local board was just the beginning of her involvement. She started going to KAR zone meetings and conferences where she met REALTORS® who encouraged her to attend KAR events and serve on KAR committees. Marsha attended most of the conferences on her own dime.
"I had people ask me, "Why do you spend the money? What do you get out of it?" Well, I get education and I get knowledge. I left a field I knew a lot about and came to a field I knew not a lot about and this is my livelihood, why wouldn't I want to know more? Why wouldn't I want to know as much as I can?" said Marsha.
She has gone on to serve on numerous committees within KAR that eventually led her to her current position as president. She has found her involvement created a statewide, and even nationwide, referral network. But, getting involved with KAR offers more than just a referral network, "it has opened up a world of mentoring to me. A knowledgebase that is unbelievable," said Marsha. "It has also led to involvement at the national level on committees and the NAR Leadership Academy."
Marsha's advice for anyone considering a leadership position or serving on a committee, "Sign up for something that interests you. We [KAR] have enough committees and variety, there's something for everybody."
So what are you waiting for? Shape the future of the real estate profession, connect with valuable mentors, and build your referral network. Jump in and apply to be on a KAR committee today! The deadline to submit your 2021 committee application is June 1, 2020.