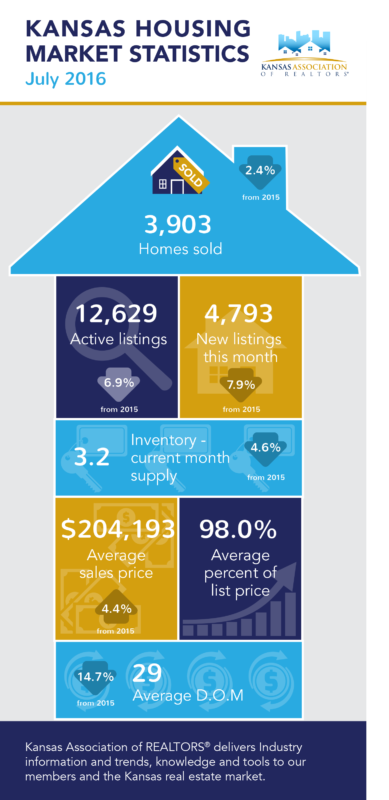 "Home prices across the state are continuing to rise," said KAR president, Deborah McMullen with McGrew Real Estate in Lawrence. "The inventory of desirable homes available for sale is extremely limited."
July 2016 Market Highlights
Home sales across Kansas followed the national trend. National sales fell 1.6% in July.
Sale prices are a bright spot. Average sales price for Kansas homes increased 4.4% this July over last year
Mortgage rates are steady. The national average commitment rate on 30-year conventional, fixed-rate loans has averaged between 3.41 and 3.48% over the past eight weeks. Last week's rate was 3.43%. View Freddie Mac's report.
Read the full press release here
Download the full report here
KAR – The Voice of Real Estate in Kansas
The Kansas Association of REALTORS® (KAR) provides members with market data to better serve clients and ensure they make decisions based on the most accurate information in the marketplace.