"Inventories continue to be tight as we start the new year," said KAR president, Kathy Minden with Crown Realty in Paola. "The number of active listings at the end of January was the lowest recorded since statewide statistics began being compiled at the beginning of 2010."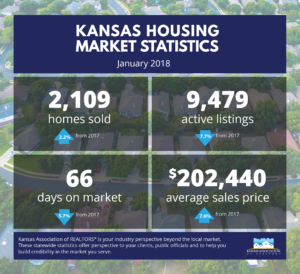 January 2018 Market Highlights
Home sales saw another month of positive gains. Homes sold were up 2.2% in January over the same month the previous year. Limited inventory continues, driving up home prices.
Sellers continue to demand and get high prices for homes in a competitive market. The statewide average sale price in January was $202,400 an increase of 7.6% over last year. This outpaced national home price increases of 5.8% above last year. Kansas homes sold for 97.1% of their list price in January.
Mortgage rates continue to climb. The national average commitment rate on 30-year conventional mortgage for the week ending February 15, 2018 was 4.38%, the highest it's been since April 2014. View Freddie Mac's report.
To view December stats, click here.
For national perspective, click here to watch NAR's new "Housing Minute" video update.
KAR – The Voice of Real Estate in Kansas
The Kansas Association of REALTORS® (KAR) provides members with market data to better serve clients and ensure they make decisions based on the most accurate information in the marketplace.