"The 2.4 months' supply of homes available for sale at the end of February was an all-time low," said KAR president, Marsha McConnell with Plaza Astle Realty in Hutchinson.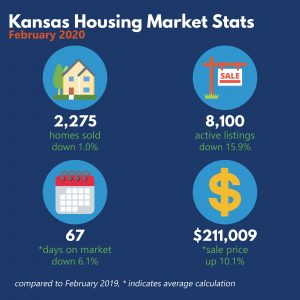 February 2020 Market Highlights
Home sales in Kansas fell by 1.0% percent in February 2020 compared to the same period last year. National sales had a increase with sales rising 7.2% over 2019.
Home prices continue to increase across the state. The statewide average sale price in February was $ 211,009 a 10.1% increase compared to last year. Midwest prices rose 7.9% and US prices rose 8.0%.
Mortgage rates are on the rise. The national average commitment rate on 30-year conventional mortgage for the week ending March 13, 2020 was 3.65%. View Freddie Mac's report.
To view January stats, click here.
For national perspective, click here to watch NAR's new "Housing Minute" video update.
KAR – The Voice of Real Estate in Kansas
The Kansas Association of REALTORS® (KAR) provides members with market data to better serve clients and ensure they make decisions based on the most accurate information in the marketplace.