"The lack of inventory is beginning to affect sales activity," says KAR president, Cindy White with Bill White Real Estate in Independence. "Sale prices continue to rise as buyers compete for the limited number of homes available for sale in the most desirable areas."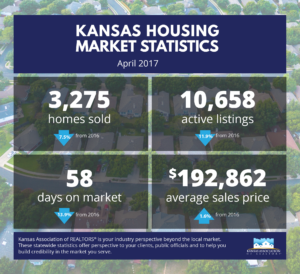 April 2017 Market Highlights
April home sales in Kansas dropped 7.5% in April over the previous year, which is a slight decrease of 0.7% from last month (March 2017).
Sales prices continue to rise as competition for inventory increases. The average sale price in Kansas was $192,862 in April – a 1.6% increase over last year and a 2.3% increase over the previous month's (March 2017) average price of $188,575.
The national average commitment rate on 30-year conventional mortgage for the week ending May 18, 2017 was 4.02%. A year ago at this time the rate was 3.58. View Freddie Mac's report.
To view March stats, click here.
 KAR – The Voice of Real Estate in Kansas
The Kansas Association of REALTORS® (KAR) provides members with market data to better serve clients and ensure they make decisions based on the most accurate information in the marketplace.