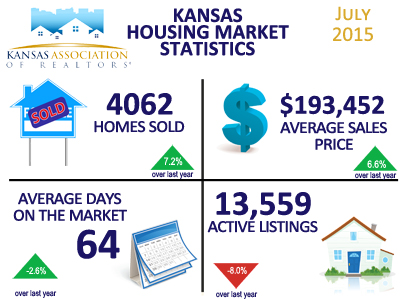 Kansas home sales rose by 7.2 percent in July 2015 compared to the same period last year, according to new figures released by the Kansas Association of REALTORS®. Sales totaled 4,062 units in July, up from 3,789 units in 2014. In comparison, sales on a national level rose by 10.3 percent for the month.
"Home sales continue to outpace new listings being added to the market," said KAR president, Todd Woodburn with Coldwell Banker Plaza Real Estate in Wichita. "As a result, supplies are at historically low levels and sale prices are up dramatically over last year."
Across the state there were 13,559 active listings at the end of the month. Supply of new and existing homes on the market – which is determined by taking the number of active listings and dividing by the number of sales – represents 3.3 months.
The statewide average sale price last month was $193,452, compared to $181,435 in July 2014. This represents an increase of 6.6 percent. The statewide median sale price last month was $164,500, compared to $154,900 for the same period last year. According to the National Association of REALTORS®, the median home price in the Midwest rose by 6.6 percent to $186,500. The national median existing home price was $234,000, which is 5.6 percent above last year's figure. The median price is the value for which half of the homes sold for more and half sold for less.
According to Freddie Mac, the national average commitment rate on a 30-year conventional fixed-rate mortgage last week was 3.93 percent.
For more than 90 years, the Kansas Association of REALTORS® has been the "Voice for Real Estate" in Kansas. Working for Kansas property owners, the Association provides a facility for professional education, research and information exchange among its 8,500 member licensees, as well as to consumers, government and the media. REALTORS® agree to abide by a strict code of ethics, and are held to a high ethical standard by their peers through their association membership. The term REALTOR® is a federally-registered trademark owned by the NATIONAL ASSOCIATION OF REALTORS®, and denotes membership in the non-profit Association.