"Overall sales declined in January, but pricing remained strong." said KAR president, Steve LaRue with McGrew Real Estate in Lawrence.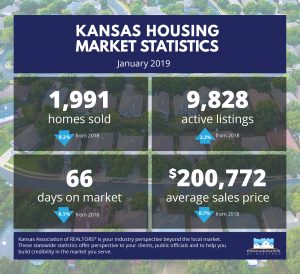 January 2019 Market Highlights
Home sales in Kansas fell by 8.2 percent in January 2019 compared to the same period last year. National sales had a smaller decrease with sales falling 8.5% over 2018.
Home prices continue to increase across the state. The statewide average sale price in January was $200,772 a 0.7% decrease compared to last year. Midwest prices rose 1.4% and US prices rose 2.8%.
Mortgage rates continue to drop even lower. The national average commitment rate on 30-year conventional mortgage for the week ending February 21, 2019 was 4.35%. View Freddie Mac's report.
To view December stats, click here.
For national perspective, click here to watch NAR's new "Housing Minute" video update.
KAR – The Voice of Real Estate in Kansas
The Kansas Association of REALTORS® (KAR) provides members with market data to better serve clients and ensure they make decisions based on the most accurate information in the marketplace.