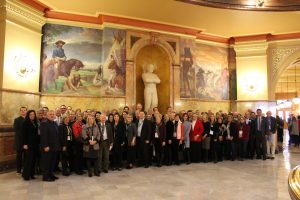 It is amazing to see how dedicated my fellow REALTORS® are, braving the cold and, for some, foregoing the Chiefs celebration to attend the Capitol Conference last week. The dedication I saw gives me a good feeling the REALTOR® passion will help drive us through an important legislative session as we fight to restore historic tax breaks for homeowners.
Tuesday night I was pleased to see a number of legislators interested in learning about our legislative focuses at the Legislative Reception. We had the pleasure of speaking with more than 45 legislators about current issues impacting the real estate industry. Seeing such a great attendance to our event goes to show we've successfully communicated how important homeownership and property rights are to a prospering Kansas and that political leaders are listening.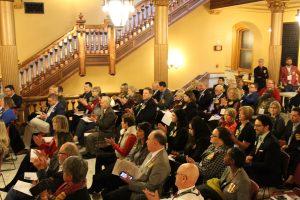 Wednesday, Jack Grecean, political representative from the National Association of REALTORS®, gave an excellent update on what is happening with federal legislation in Washington, D.C. After the update, we banded together to share the importance of property rights and homeownership with legislators at the Kansas Statehouse. Despite the opposing forces (the cold weather and a parade celebrating the Chiefs' win), the 4th floor of the Capitol showed no lack of REALTOR® pride as the rally attendees prominently displayed their large yellow Protect the Deduction stickers.
The Chiefs won and I believe REALTORS® will win this legislative session too. I am proud and grateful to have the opportunity to lead such a passionate group and look forward to all of the things we will accomplish.
– Marsha McConnell, 2020 KAR President