Complete Code of Ethics Training by December 31, 2024
December 31, 2024 marks the NAR Code of Ethics, Cycle 7, deadline. If your last Code of Ethics (COE) training took place before January 1, 2022, YOU MUST COMPLETE A CERTIFIED COURSE BY DECEMBER 31, 2024. Learn more about the Code of Ethics.
Several virtual and live classroom COE opportunities are available as part of a KAR Quick Study class, which provides all 12 hours of Continuing Education needed for Kansas license renewal in a classroom format. Those that include COE will be held from 8 am – 3 pm in the following format/locations:
Topeka Live in-person @ Kansas Association of REALTORS®, 3644 SW Burlingame Rd, Topeka
Wednesday, July 13
Wednesday, September 14
Wednesday, November 2
Wichita Live in-person @ Wichita Area Builders Association, 730 N Main St, Wichita
Wednesday, July 21
Wednesday, September 28
Tuesday, November 29
Virtual via Zoom
Wednesday, July 27
Wednesday, September 21
Wednesday, November 9
Lawrence Live in-person @ Lawrence Board of REALTORS®, 3838 W 6th St, Lawrence
Wednesday, October 26

Class Schedule: 
8 am – 10 am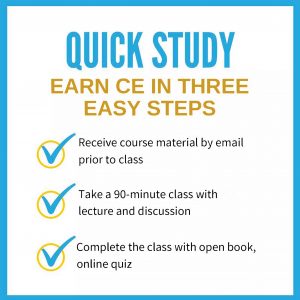 Kansas Required Core
4 Hours Kansas Mandatory CE Credit
and GRI 113 Credit
10 am – 12 pm
Legal Environment of the Real Estate Professional
4 Hours Kansas Elective CE Credit
1 pm – 3 pm
Kansas Real Estate License Law & NAR Code of Ethics
4 Hours Kansas Elective CE Credit
and GRI 114 Credit
Registration for these classes can be completed online.
If just completing the COE requirement is what works best for you, a KAR online class (4 CE hours) may be purchased for $30.
Finally, for those who do not need CE but need to take Code of Ethics training to fulfill their NAR requirement, a NAR online class is available for free here.
Failure to complete COE training by December 31, 2024, will result in a suspension of membership by NAR on January 1, 2025, and termination of membership on March 1, 2025.
Please remember that if you take a COE class from a vendor other than KAR or NAR, it will not be automatically uploaded to your member record. A certificate of completion from the vendor must be provided to your local or state association so that it can be included on your NAR record.
To review your COE Record, please log in to My KAR Account and view the information on the home page. The COE cycle will appear on the top left of your screen under your name.
Name
Company
NRDS ID:
COE Cycle End Date:
Your Last COE Date:
Current COE Cycle Complete: