"Together, we get so much more accomplished," says Dana Benjamin, a licensed REALTOR® for almost 20 years, when she talks about her real estate team. This year, Dana made the bold decision to invest in her people and took them all to the NAR Convention in Chicago  -together.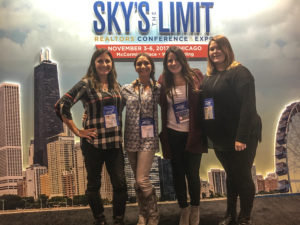 "I took them to the NAR Convention (in Chicago in early November) to inspire them to be better REALTORS®, more organized and more professional," says Dana. "They came home all 'fired up' and are listening to audio recordings of classes we missed, writing down goals, time blocking their week, and hand writing notes. I can't say enough about how much of a difference the NAR Convention can make to an agent, especially newer agents. I've been going to national conventions off-and-on since 2001 and still keep going back for more!"
Each person took something different away from the educational sessions at the NAR Conference:
Caitlin Benjamin, Agent, 2 years
The biggest thing I took away from this year's NAR Convention is "saying no to unreasonable demands." The most successful people in our industry say it's key to have some 'non-negotiable' things in our lives – something you need to be the best version of you. Say no to however many things you need to in order to keep your non-negotiable thing a "yes"! If we can do that it becomes much easier to reach our goals in all aspects of our lives.
Mallory McKamie, Transaction Coordinator, 4 years
The systems and tools you learn at NAR are priceless. During Brian Buffini's session he asked, "What would your ancestors do with the opportunity that you have today?" That one question has motivated me to implement the valuable tools I learned to better enhance my life both personally and professionally.
Danielle Ashner, Agent, 9 months
The best take-aways for me were methods for overcoming procrastination, a better structure for planning my goals, and luxury home selling techniques.

Dana Benjamin, REALTOR®, 20 years; Team Leader 4 years
I picked up invaluable information I need to run a more profitable business and lead my team, as well as focus more on giving back to our community. I wish we could bottle up the inspiration and enthusiasm we have upon leaving the NAR Convention, put it in a pill and take it every day!
Dana's team brought home way more than education. The experience of an NAR Conference is unmatched. Think of 20,000 REALTORS® in the same 5-mile radius sharing industry knowledge and getting to know their counterparts from around the world! NAR attracts national level presenters, industry specialists, motivational presenters and entertainers. Consider taking your team to an NAR conference. They happen every November around the country. 2018's conference is in Boston!
Dana Benjamin is a licensed REALTOR® with a team at ReeceNichols and specializes in horse property, farms, land and homes on acreage. Her daughter, Caitlin Benjamin, joined her team two years ago and helps on the Missouri side where she lives on a 300-acre horse farm. Daughter Danielle Ashner joined the team spring of 2017 and works primarily in Kansas. Mallory McKamie, transaction coordinator and assistant, has been an invaluable team member for four years. Dana's husband, Jeff Ashner, is a builder and developer and is currently building their custom home on a twenty-acre horse property in Stilwell, KS.