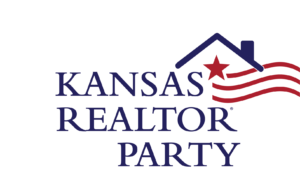 Did you know that votes at the Kansas Statehouse impact your daily business? For instance, changes in the tax code can decrease (or increase) the financial incentives to be a homeowner. Legislation making it easier for developers to establish new housing can help address housing shortages in communities. As a REALTOR® you know these are important issues, but elected officials may not. And, they may not realize the full extent of the impact on the real estate industry or the ability of Kansans to own property. That is why the REALTORS® Political Action Committee works together to speak as one voice, advocating for legislation to keep your business and the real estate industry, healthy.
The REALTORS® Political Action Committee (RPAC), in Kansas and at the national level, is non-partisan and focuses on issues related to the real estate industry. RPAC contributions educate elected officials on real estate issues and support candidates who support property-ownership and the laws and regulations around it.
When you invest in RPAC, you're not just investing in your business. You are investing in all Kansans, the strength of the association, and the future of real estate. The Kansas Association of REALTORS® RPAC advocates for state legislation that encourages home and property ownership. Buyers and sellers need and benefit from working with REALTORS® who can help them make sound decisions in property transactions. When the real estate market flourishes, Kansas flourishes. A flourishing Kansas builds strong communities, where families and businesses can confidently plant their roots and own their piece of the American dream.
The Kansas Association of REALTORS® (KAR) is very fortunate to have generous RPAC investors. The National Association of REALTORS® RPAC Hall of Fame recognizes dedicated members who have made significant contributions and have invested a lifetime amount of at least $25,000. There are currently 11 KAR members in the Hall of Fame and KAR is pleased to announce the following members will be installed in the Hall of Fame during the May NAR Legislative Meetings and Trade Expo in Washington, DC:
$25,000 – Jeff Carson, Jeff Hill and Marsha McConnell
To all past, new, and future RPAC Hall of Famers, thank you for your support and dedication.
Existing KAR members in the RPAC Hall of Fame:
$125,000 – Nestor Weigand
$50,000 – Alan Huffman and Mike McGrew
$25,000 – John Brocker, Rob Curtis, Karen Gehle, Steve LaRue, John McKenzie, Dan Sight, Pat Tholen and Todd Woodburn
To learn more about RPAC and becoming an investor, please visit https://kansasrealtor.com/what-is-realtor-advocacy/invest-in-kansas-rpac/