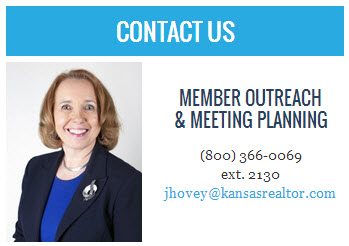 The KAR Legislative & Education Conference is held in Topeka during January of each year. The highlight of this meeting is the newly-implemented KAR REALTOR® Rally. KAR provides transportation to the Capitol building (and back) offering members an opportunity to meet their representatives and discuss issues of relevance to Kansas REALTORS®. Other key facets of this meeting include amazing education opportunities with national speakers as well as Local Board Leadership Training, Committee meetings and the Board of Directors meeting.
The KAR Mid-Year Conference is held in various locations around the state during June. This is the perfect time to take outstanding education sessions led by incredible national instructors. These classes are designed to develop, enhance and boost your real estate business. This is also when the Directors, Committees and general membership to meet and transact association business.
The KAR Annual Conference & Education Expo is held in various locations around the state each fall. These meetings are a great time for the members to get exceptional education from incredible, nationally acclaimed instructors. This is a great time to visit with the vendors as they display the latest and greatest offerings available in the Real Estate industry. As with all of the meetings, it's a fantastic time to network, meet up with old friends or make some new ones. You'll have a blast at KAR Fun Night! Oh, and we'll transact association business, too. 2015 meeting schedule available soon.
Online Event
Calendar

KAR Conference
& Education Expo

National Association
of REALTORS® Events